The Cadets Theme for February was 'Who am I'. Our activities in February were based on breaking the ice and getting both Rangers and Cadets to begin building a safe space for them to come grow as young people and share with others along the way. This was very important as we had new cadets in both primary and high school who would be joining the programme for the first time, so it was important that we made them feel like they belong in the new space.
House System
In 2020, we introduced a house system in which six Cadet Houses have been created. All cadets have been assigned to these houses and will be a part of them until they leave the SCI programme. The Cadet houses were initiated to provide cadets' a sense of belonging, and be able to form bonds with other cadets. They are encouraged to form close relationships with their housemates and support each other in all the activities and programs they engage in at SCI . The names of the houses based on the Cadets pledge namely: House Ethics, House Humility, House Accountability, House Integrity, House Perseverance and House Honesty.
Activities
The first activity that the Cadets engaged in was learning the Cadets Pledge. Rangers explained the significance of the Cadets Pledge to the new and old Cadets, as they become the guiding principles they undertake and strive to live by.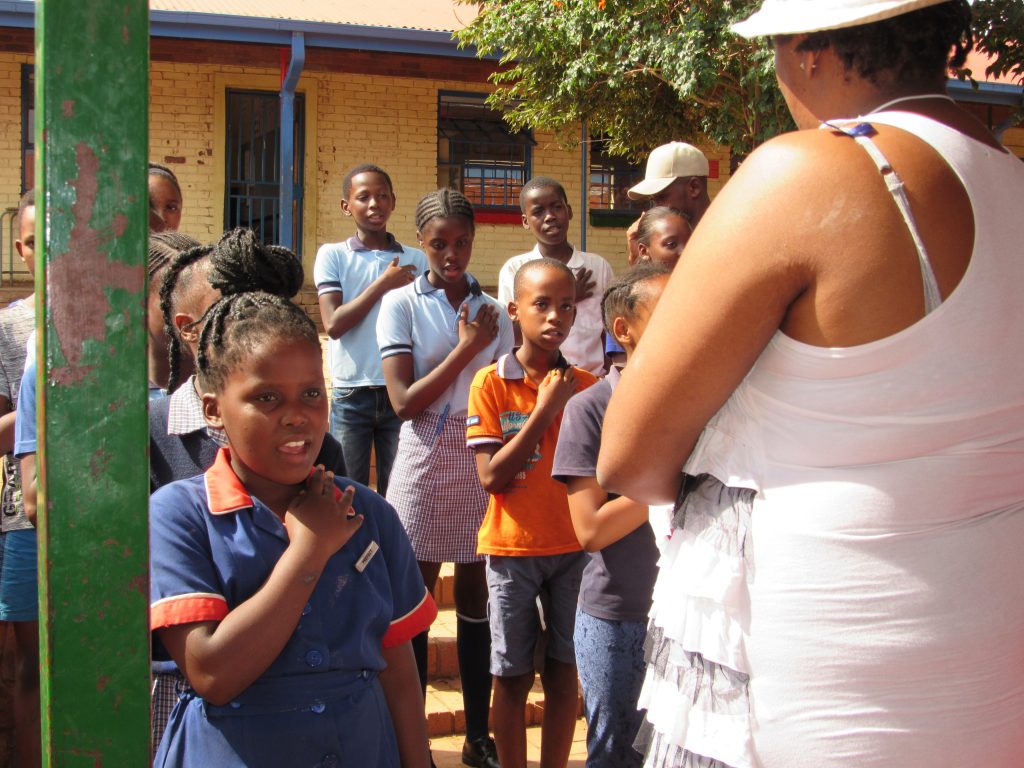 Cadets also participated in drawing activities whereby they were tasked with drawing an "under the sea" picture as a group. They had to get creative about the things they thought belonged under water. This activity enabled Cadets to work together and think before acting as all group members had to actively contribute towards the picture.
Many of our activities  for the month of February were aimed at introducing and fostering teamwork and ensuring that Cadets get into the habit of helping each other. In addition, they learn to understand each other, know each other's strengths and weaknesses as well as build a foundation of love and care for one another. 
Other games that were played throughout the month included Bounce, Robot and Sack in the hole, which were used to further test the teamwork skills of the different teams. These games enabled the Cadets to learn and see the importance of encouraging and cheering each other in their teams. The games also built a foundation of reliance and trust among the Cadets because during these games, they had to trust in each other and encourage each other in order to win and gain points for their teams.
In the last assembly for February, we had a 'Who is your teammate?' activity as well as a goal setting session. In the 'Who is your teammate?' activity, Cadets were basically reflecting on who their fellow Cadet were. They had to randomly choose one Cadet in their house and speak about who they are, their strengths as well as what they love about each other as team players.
For the goal setting session, Cadets had to look into what they want to achieve in 2020 as well as how SCI can help them attain their goals. Furthermore they also had to reflect on their achievements in the past year and discern what wasn't working in order to map out what they think would work or what they wanted to change. The goal setting session also focuses on the academic milestones that Cadets set for themselves and we review them quarterly to encourage the cadets to work harder and make progress. They Cadets wrote their goals and expectations as well as how they plan to work towards reaching their goals.
Overall, the 'Who am I?' theme gave the Cadets time to reflect on themselves as well as their fellow Cadets. They were able to build a foundation of trust and love among each and something that we will continue to learn as the year goes by.
"I joined the Supreme Cadets Institute in January 2020. I have learnt a lot and I thank them for helping us with our homework and school work. I appreciate their kindness and I love all the activities that they engage us in." –Owami, Grade 7
"I am very proud to be called a Cadet. In the month of February, I was taught how to be kind and how to read. I am thankful to the Supreme Cadets Institute for that." Mpho, Grade 6
'In February, I learnt a lot about the other Cadets, hobbies and how to play with new children. I also learnt the importance of setting goals for yourself. I am very determined to achieve my school goals in 2020.' Odelia, Grade 7