We noticed a decline in academic performance of youngsters leaving primary schools as excellent achievers, they seem to get lost in the "adult space" of teenage-hood and peer pressure.
We are launching our VISON 2023, a vehicle through which we will be tracking, supporting, courting and mentoring Cadets that have entered commenced their secondary education in 2019 as grade 8 pupils.
Our vision is to help them pass their matriculation exams in 2023 at the same level of excellence they leave their primary schools. The intake of grade 8 will happen each year, mainly with pupils growing in the cadet ranks from Grade 6 and 7. 
In pursuit of academic excellence for all Cadets in our program, we offer  weekly tutoring sessions to help our cadets improve their marks and maintain their marks as they progress throughout primary and high school. The purpose of the tutoring program is to provide additional academic support in pursuit of the cadets academic development. This is done primarily to help learners transition into high school and be able to keep up with their grades.  We employ tutors from in and around Atteridgeville to help our cadets with their academics. The tutoring team consists of qualified tutors, teachers from local high schools and volunteers from institutions such as the University of Pretoria and University of South Africa.
Our tutoring sessions take place three Saturdays in a month for the Senior Cadets and one Saturday in a month for  our Junior Cadets. 
During school holidays we host Tutor Weeks where  all cadets come in for tutoring to tackle different subjects. Tutor week is implemented to help learners catch up on work they might have missed out on during the term and work ahead of the syllabus at schools, thus enabling them to do the work teachers might not get a chance to cover during the terms.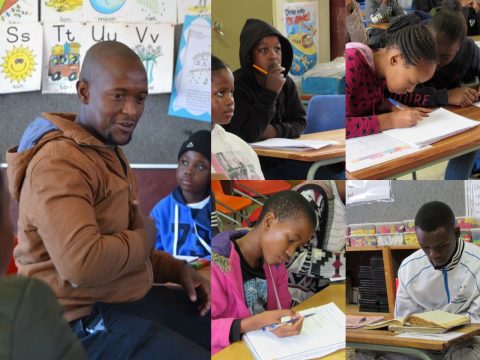 The Rangers meet with the Junior and Senior Cadets once a week for Cadet Meetings, with the purpose of creating and maintaining a space where learners are free to express themselves and find comfort in the support that SCI provides to achieve beyond the social ills that they may experience. Some of the activities in the cadet meetings include:
Book Club:

Our book club  programme is aimed at helping our Cadets to improve their literacy skills and get them into the habit of reading books. The book club assists our Cadets in enhancing their

language skills and develop fluency in English which will also help them to express their thoughts and ideas better.

Spelling Bee:

Cadets are given a series of words to learn, practice and present  which assists with their vocabulary,

self-confidence, communication and public speaking skills.

 

Social Entrepreneurship and Entrepreneurship sessions:

These sessions are aimed at teaching our cadets  financial literacy. As social entrepreneurs, they are further taught to identify social issues and provide sustainable solutions to solving them
The Cadet Assemblies are an opportunity for the Cadets to break from the academic and tutoring program. The assembly is hosted on the last Saturday of every month, during which they engage in sports and recreational activities to earn points for themselves as well as their houses. The different activities test the Cadet's physical, mental and emotional strengths as well as teach them leadership skill as well as team work.
During the school winter break, SCI hosts its flagship program called the Cadet Week. The purpose of this program is to allow the junior and senior Cadets to interact and work rigorously on their team building. For a week, the cadets participate in sports and recreational activities facilitated by rangers and themselves .
Cadets week allows SCI to collaborate with other organizations and institutions that attempt to address social challenges and have an impact on youth groups such as the South African Police Services (SAPS), Atteridgeville Sports and Recreation Office and Brothers4life. These institutions join the programs for the day and give the Cadets talks on social issues such as crime, health  and wellbeing. In addition, they facilitate games around the various social issues amongst teenagers and the community at large.
Extra-Curricular activities - Sports & Recreation
Many schools in the Atteridgeville community do not offer their pupils extra-curricular activities and this can limit them from discovering and improving their talents. SCI has taken upon itself to offer weekly activities facilitated by professional coaches, such as:
Drum Majorettes

Brass Band and Choir

Netball and Basketball
We recognize the benefits of these activities in providing mental and physical stimulation; improving learners self-image and confidence; improving relationships and ability to work with others.
Social Interventions and Support
Our Rangers supported by our Patrons continuously intervene and engage with teachers, parents, local police and social workers to assist in resolving social challenges that may hinder the overall development of our Cadets.
SCI through its programs realized the need to educate our cadets and make them aware of the social challenges within the community. Since 2019, we have organized various excursions aimed at making the cadets aware of the social ills in the real world.  We take the senior cadets for an overnight retreat where the boys and girls can have one on one sessions with counsellors, elders and rangers to speak about their challenges as teenagers and to see how best to help them face these challenges.
For the Junior cadets, we take them out on a movie day to provide them with a safe space to have fun and explore different environments. This exercise also enables the rangers to sit with the junior cadets to speak on the social issues that affect them.
To give the cadets an experience outside of our usual programmes we take our cadets on excursions. We give cadets the opportunity to attend events or visit places that they have never been before. The purpose of these excursions is to educate the cadets outside the classroom and to allow them to experience the real world.
We take Cadets on various excursions throughout the whole year.  These excursions include:
The Big Walk and Pheli Colourful Fun Run & Walk: These events allow our cadets to participate in fun physical activities together. The Big Walk in particular enables us to promote health and fitness among our teenagers.

Kgosi Mampuru Correctional Services Facilities visit: The purpose of this excursion is to show cadets the importance of being a law abiding citizens and the realities of living a life of crime. We continuously make efforts to ensure that we get our cadets to make the right decisions and the visit to the Correctional Services facility is one such example. 

Movie Day: The Junior cadets get an opportunity to watch a movie at the cinema. This gives an opportunity for the cadets that have never been to a cinema before to experience it with fellow cadets and the SCI team.  We try to center the movie based on an educational topic that they can write about.
The CLRC is the Cadet Leadership and Representative Council which was formed in 2020. Cadets have elected their representatives who will represent their interests. This cohort of Cadets will be participating in decision making structures. The CLRC are given the responsibility to ensure that we can maintain order and transparency amongst our Cadets.